NEWS
My new Song Intoxicated is the English-Persian rearrangement of the song "Mastom Mastom"!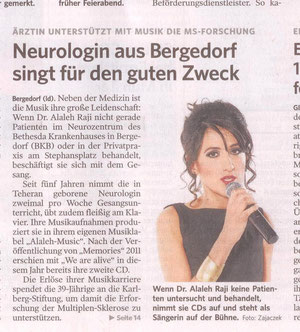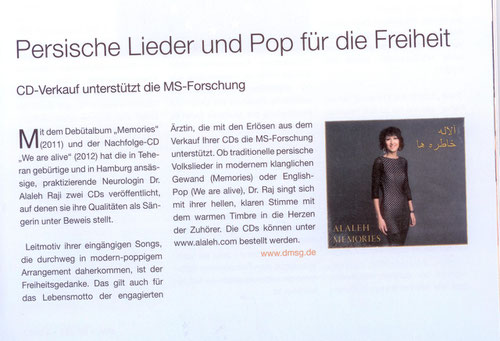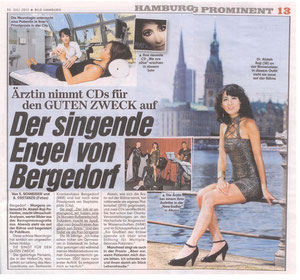 Artikel von Bild Hamburg auch online verfügbar unter: http://www.bild.de/suche.bild.html?type=article&query=singende+%C3%A4rztin
New CD out now: WE ARE ALIVE !
ALALEH - Memories

With Memories Alaleh presents her first CD with thirteen beautiful historic Persian songs in Farsi – arranged in a modern way. These songs tell about timeless feelings as love, melancholy, optimism and vitality.
A musical bridge between nations and generations, between the Orient and the Occident is built that inspires to dream, to relax or to dance.
Alaleh, born in Tehran, lives in Hamburg since more than two decades. She is a singer and a medical doctor. She shows playful joy and confidence and fights fear and sorrow at the same time.
For herself Memories means a return to her wonderful years in Tehran, taking the music of her childhood into the presence and future. With her audience she wants to share this feeling of freedom which is inspired by her music.
Alaleh dedicates this recording to her grandmother Nayereh whom she lost at age of seven.

Alaleh präsentiert mit Memories ihre erste CD mit dreizehn wunderschönen, modern arrangierten historischen persischen Liedern in der Originalsprache. Diese erzählen von den zeitlosen Gefühlen wie Liebe, Melancholie, Optimismus und Lebensfreude.
Musikalisch entsteht eine Nationen und Generationen überspannende Brücke zwischen Morgen- und Abendland mit ansteckender Rhythmik zum Träumen, Entspannen oder Tanzen.
Alaleh, geboren in Teheran, lebt seit über zwei Jahrzehnten in Hamburg. Sie ist Sängerin und promovierte Ärztin. Alaleh strahlt spielerische Freude und Zuversicht aus und wendet sich gegen Angst und Leid.
Persönlich bedeuten ihr Memories eine Rückbesinnung an die schönen Lebensjahre in Teheran und eine Mitnahme der Musik ihrer Kindheit in die Gegenwart und Zukunft. Gemeinsam mit Ihren Zuhörern möchte sie das musikalisch animierte Gefühl von Freiheit teilen.
Diese CD widmet Alaleh Ihrer Großmutter Nayereh, die sie im Alter von sieben Jahren verloren hat.